The Nursing Times website is optimized for mobile so you can easily read our content on your phone as well as on a computer or tablet.
But did you know that you can also save our website to the home screen of your iPad, iPhone or other device, so it looks like an app.
Basically, you can easily add an app-like icon that is a shortcut for the Nursing Times website, so you can quickly access the site without having to find it first using a search engine like Safari. or Google.
It will look and feel like you're using an app. However, you will still need to log in to your Nursing Times account when using the app-like icon.
Saving the website shortcut on the home screen will save you time and make it easier to keep up to date with all our content, from articles to videos.
How to save the Nursing Times website as an app-like icon
The following instructions explain how to record the Nursing Times website on an Apple iPhone.
First, you need to use the Safari web browser to view the Nursing Times site. Safari is the app that sits in the bottom row of your phone's home screen and features a compass icon.
Once you have loaded the Nursing Times website, look at the bottom of the Safari browser. You should be able to see the "share" icon in the menu bar. It looks like a box with an up arrow attached. Find the icon and tap on it.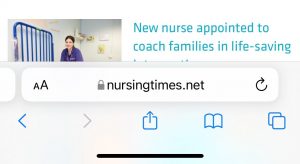 You should now be able to see a list that includes Copy, Add Bookmark, Add to Favorites, etc. From the list of sharing options, choose Add to Home Screen.
It will now ask you to confirm that you want to add the Nursing Times icon to your homepage by tapping Add. An icon will now be added to your home screen so you can quickly access the website.
Take a look at your home screen. The App Appearance icon should now be visible on your home screen, labeled Nursing Times, and you're good to go.
Simply click the icon to browse the Nursing Times website whenever you want. Keep up to date with all the latest news and opinion, clinical articles, videos and more.